CargoVise is a dramatically different way of securing and hauling gear on an ATV.  Unlike other cargo systems with fixed compartment sizes, CargoVise adapts to your gear regardless of its shape or size.
Consider a plastic box. Its size is fixed and not adaptable. If you place a $3,000 spotting scope in the box and it does not completely fill the space your scope rattles around and is ruined. If you have an item that is larger than the opening in the box, like a tripod, it won't fit inside and you usually strap it on with bungee cords. Bad plan.
| | |
| --- | --- |
| The two outer wings overlap each other and cinch down securely, as shown on our snowmobile model. | This ATV front rack model shows the CargoVise with the two outside wings open. The inner wings can be tucked under long items like this rifle and add additional padding. |
…enter the CargoVise. It has four overlapping wings that fold and overlap like a burrito. Inside the wings a large roll-top sack with a generous (HUGE) opening contains and secures your cargo even more. It is handy for storing small gear items, clothing or items you want to further protect from the elements. It will hold most fully loaded day packs, small lunch coolers, ammo boxes, etc. We have hauled a buck mule deer in the rear bag!
| | |
| --- | --- |
| CargoVise shown with shooting mat and long range tactical rifle. | CargoVise closed and cinched down with all gear inside. |
The inner sack and inner wings do not have to be used and will stow under the wings and larger cargo items. Simply fold it under and compress large items with the wings. Rifles, shovels and rakes, hand tools, tripods, tents…we've hauled a LOT of crazy things!
| | |
| --- | --- |
| Honda Rubicon with front and rear bags. On this October day we hauled our clothing, food, equipment and rifles and were completely self sustained on the ATV. | Note the rifle secured under the wings of the rear bag. It can be quickly deployed while the inner bag has kept our clothing and equipment dry and protected. |
| | |
When not in use or when holding small items, the whole system tightens down on itself and lays flat on the rack.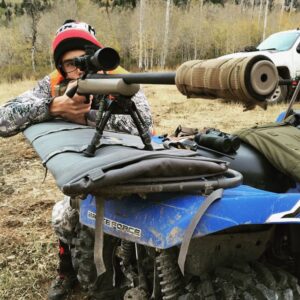 Features:
• Two end and two side wings adjusts to your cargo
• Three outer compression straps
• Five inner compression straps
• Padded, reinforced wings, bottom, sides
• Inner roll-top bag secures preious cargo
• Metal "hook" buckles wont break or jam
• Bar-Tacked MOLLE style webbing panel on bottom
• Fits any ATV rack, plastic or metal
• Simple design, easy to use
• Extremely versatile!
Benefits:
• Ajusts to fit any size cargo – big or small!
• Cargo capacity not limited by a small opening
• Absolutely secure load
• Protects from dust, dirt, rain, water, snow…
• No zippers to jam or latches to break
• Can be rinsed with a hose